Your Reef Safe Sunscreen Guide
Marine Sanctuaries are home to some of the ocean's most biologically diverse and culturally significant marine areas, and we need to ensure that these critical areas are protected from harmful chemicals, in addition to other damaging practices like oil and gas extraction
To keep ocean life happy, the key is to find an SPF that uses physical UVA and UVB filters (as opposed to the chemical ones that have been connected to coral reef deterioration). You'll be able to find them by flipping the SPF tube over and looking for the active ingredients: zinc oxide and titanium dioxide. These ingredients form an actual physical block to shield skin from absorbing any rays (whereas chemical filters absorb UV and turn it into heat that's released from skin).
"The term reef safe typically means that the sunscreen contains only mineral UV-blocking ingredients like oxide and titanium dioxide," explains Joshua Zeichner, a board-certified dermatologist in New York City. "Both nano particle—a smaller particle size—and traditional zinc oxide sunscreens are both safe and effective, and both will be considered safe for reefs. The only difference is the cosmetic feel on the skin." So you're pretty much good to go with a mineral-based option.
How do I know if a sunscreen is "reef friendly"?
Unfortunately the term "reef friendly" is not regulated, so you can't always trust products with this description. It's important to actually check the "active ingredients" label on the back of your sunscreen or personal care product to ensure that reef-harming chemicals are not included. The size of minerals can also have an impact. Be sure to use micro-sized (or non-nano) mineral sunscreens to avoid nanoparticles, as these smaller particles can be toxic in high concentrations. It's also advised to stick with lotions and avoid spray or misting sunscreens, especially those that contain titanium dioxide as it can be harmful to your health if inhaled. Finally, it's always good to use products that cut back on single use plastic packaging, either by using containers that are reusable, have high recycled content or are made out of biodegradable plant-based materials like cardboard.
Check the label! Make sure your sunscreen does not contain the following harmful substances on the "HEL list:
Oxybenzone
Octinoxate
Octocrylene
Homosalate
4-methylbenzylidene camphor
PABA
Parabens
Triclosan
Any nanoparticles or "nano-sized" zinc or titanium (if it doesn't explicitly say "micro-sized" or "non-nano" and it can rub in, it's probably nano-sized)
Any form of microplastic, such as "exfoliating beads"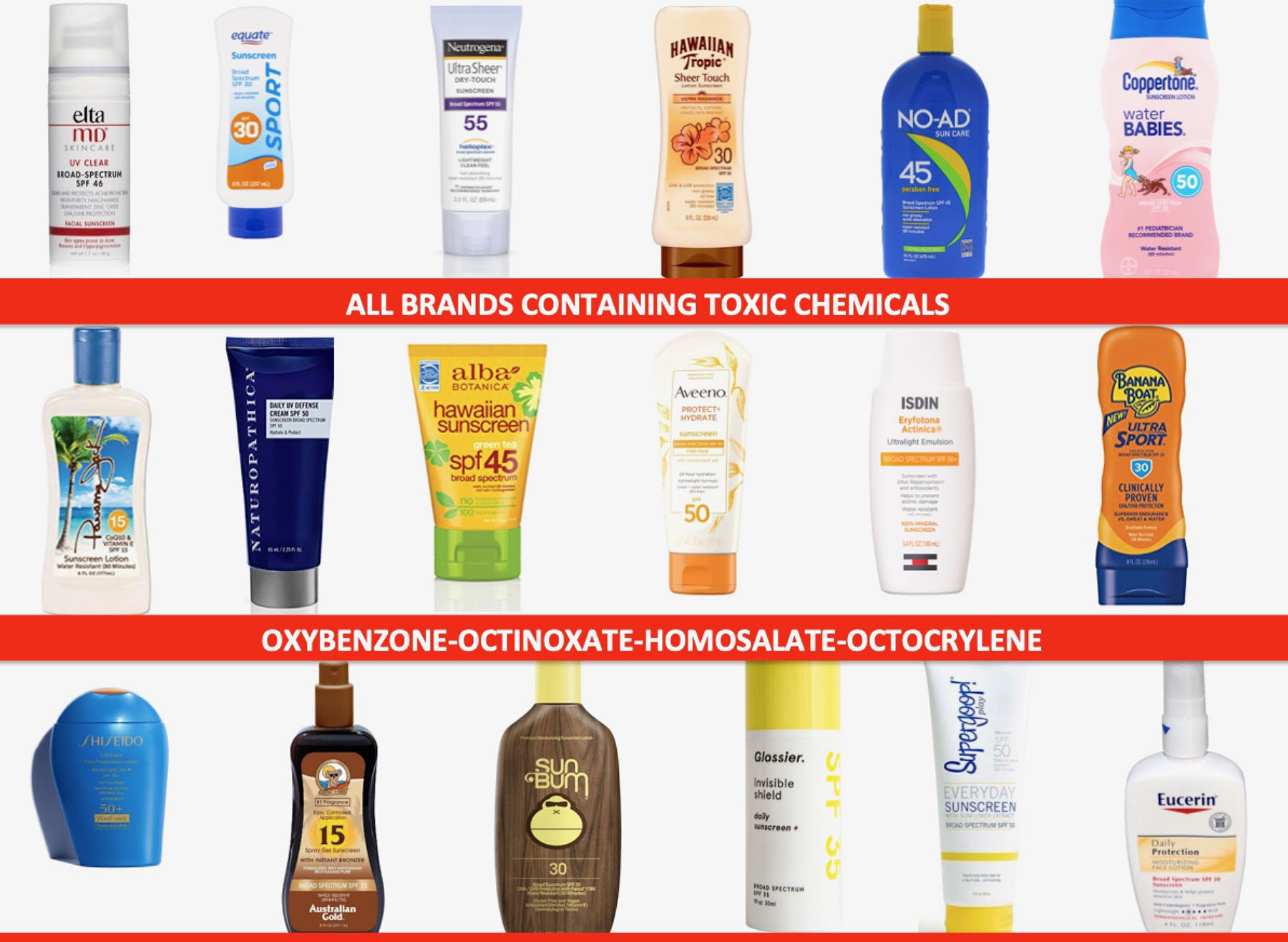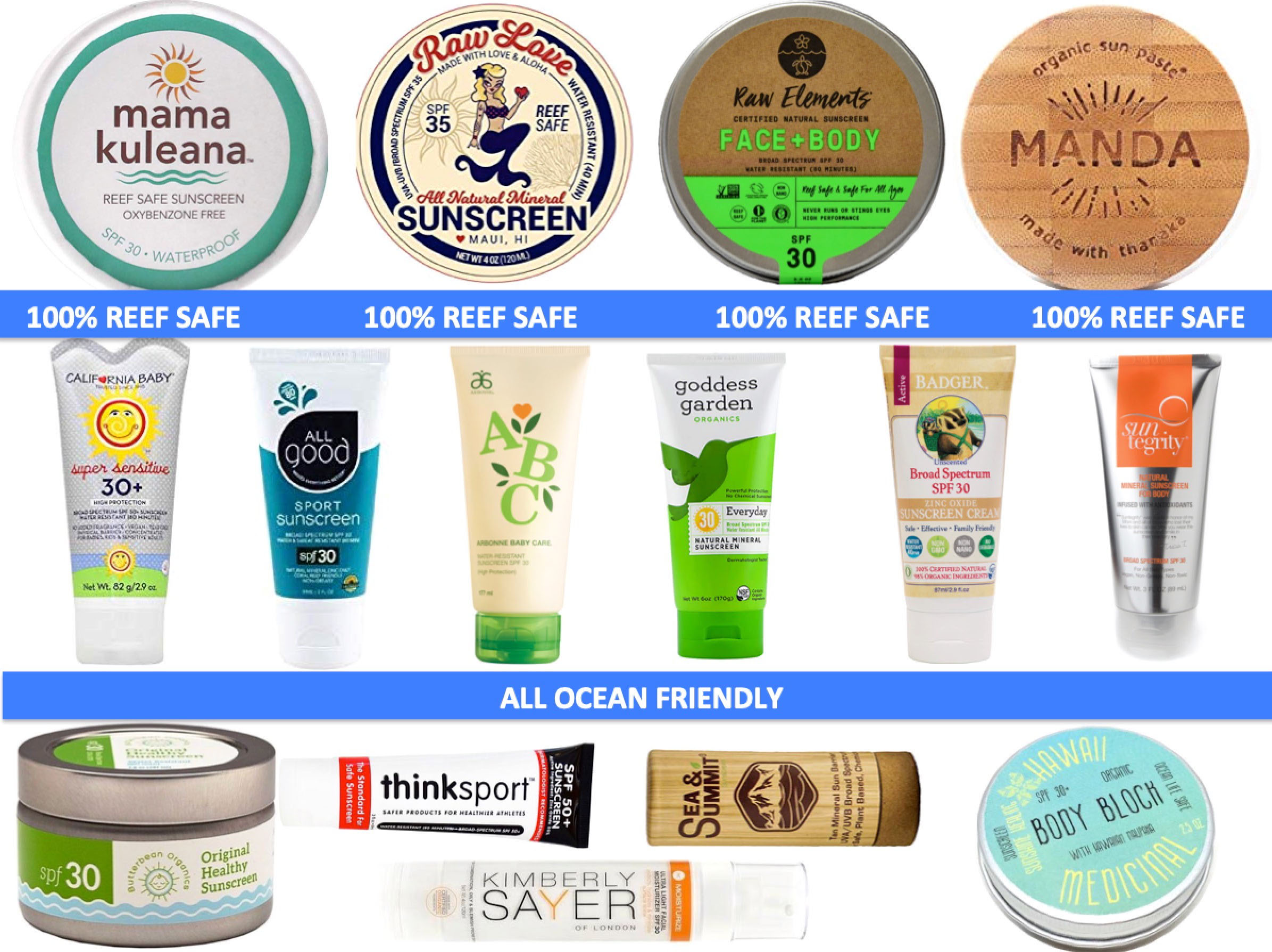 Spread the word and advocate for bans on reef harming sunscreens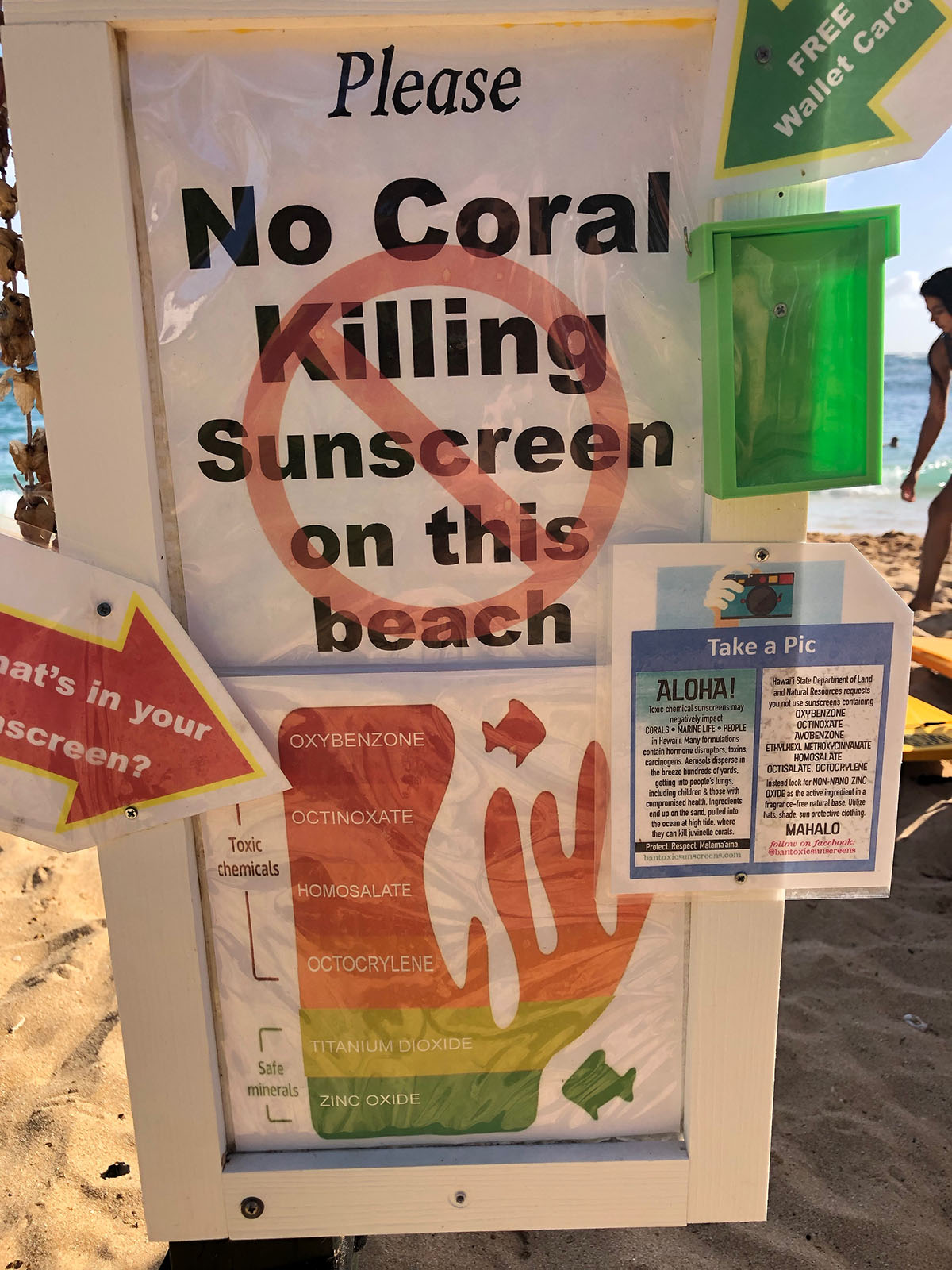 In addition to changing our actions and purchasing decisions to protect the marine environment, it's also important to spread awareness about the issue to friends, family and community members. At the local level, ensure that your town's stores are offering "reef friendly" sunscreen products, and encourage them to stop the sale of harmful products.
You can also advocate for local legislation that bans the sale and use of toxic sunscreens. For instance, in 2018, Hawaii passed the first ever statewide ban on oxybenzone and octinoxate sunscreens, soon after, island nations including Palau, Bonaire and Aruba followed suite. Due to widespread community support, the Florida Keys were also able to pass an oxybenzone and octinoxate sunscreen ban in Key West, but chemical companies have been working tirelessly to try and revoke this important legislation through the use of statewide preemption.
At the federal level, you can ask your federal representatives to support the first federal bill to ban oxybenzone and octinoxate sunscreens in National Marine Sanctuaries with coral reefs!